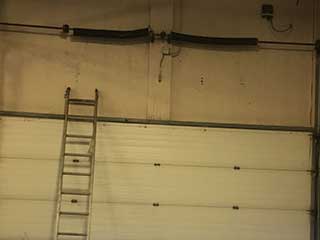 A garage door cannot function without the springs. These components support the weight of the panels and assist the door's motion by providing it with the necessary tension. They're essentially what allows you to so effortlessly open and close your door manually, without having to pull it's full weight by yourself (which you probably wouldn't be able to do, it's that heavy). When you get an opener installed, the device automates the process by generating the initial pulling or pushing action which you would provide in a manually operated system. The springs are still the ones who do all the heavy lifting. That's why these crucial components must be in a great working condition, otherwise your door will out of balance, and may even become inoperable or dangerous to use.
Torsion and Extension Springs
There are two types of residential garage door springs that are commonly used today, and aside from sharing a similar responsibility, each of them works very differently. Extension springs are installed on opposite sides of the door. They stretch when the panels lower and contract in order to raise them back up. Torsion springs are the second type, and the newer of the two. They are installed above the door, and work by providing torque to drums that wind and unwind lift cables that move the door. Usually, a single unit will suffice, as these components are very flexible and durable, and only really heavy panels will require more than one unit.
The Maintenance Requirements
To make sure that these components are able to keep functioning properly and efficiently, regular lubrication and adjustment will be required. This will reduce the working strain of these components, and prevent a situation where the door gets unbalanced. If you neglect your springs their condition will worsen over time, until they will eventually break unexpectedly.
Contact Us Today
Our team at Garage Door Repair Dallas is here to ensure your springs are in perfect condition. We can safely replace and adjust them as necessary, so remember to give us a call if you need some help with them.
Count on our team for:
Roll Up Garage Door Services
Liftmaster Chain Drive Lubrication
Genie Garage Door Openers
Emergency Garage Door Repairs