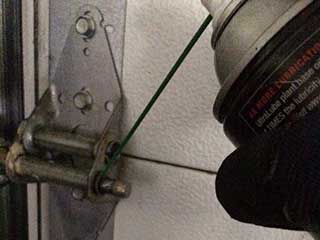 If you have an attached garage, it can be incredibly annoying to be unable to use your garage door without causing such a ruckus that every one of your family members gets woken up. Luckily for you, there are some steps that can be taken in order to reduce the working noise of your door and increase its efficiency in the process.
Consider Upgrading Your Opener

If your garage door opener uses a chain drive, it's going to make some noise while it's running. The major benefits that models that use this drive system offer are strength and affordability, but their main downside is definitely the noise output. Lubricating the chain will help reduce some of the sound, but it won't make it silent. If you were to upgrade to a belt-drive opener, however, you will enjoy a virtually silent operation. Although noise output alone can be reason enough to consider getting a replacement, there are additional features that new technologically advanced models have to offer.

Retighten All The Moving Parts

All the different nuts and bolts that fasten things in place should be tightened properly. Loose one swill rattle while the door is in motion, which will add to the noise. Keep in mind, though, that the tracks must be perfectly aligned in order to allow the rollers to move effortlessly, so make sure you're not moving them out of position. If you don't want to take unnecessary risks, our technicians will be able to help you with that..

Lubricate The Springs

Garage door springs are under a lot of stress. Each time you use your system the full weight of the panels is supported by these important components, and over time this will cause them to wear out. As they become worn, they will start producing more squeaking noise, due to the friction involved in their operation. This can be greatly reduced with proper spring lubrication. An added benefit is that these components will actually work more smoothly as a result.

Replace The Rollers

Steel rollers will also produce noise as they become worn, and they too can benefit from being lubricated. However, if you replace them with nylon coated rollers, you won't need to lubricate them and they will work much more silently.

If All Else Fails

If you adjusted and lubricated every single part that can benefit from it, yet your door still continues to make a lot of noise, you need to have our experts at Garage Door Repair Dallas come and take a look. You can have a more serious problem on your hands.